AIER
Services-Sector Survey Suggests Strong Growth in July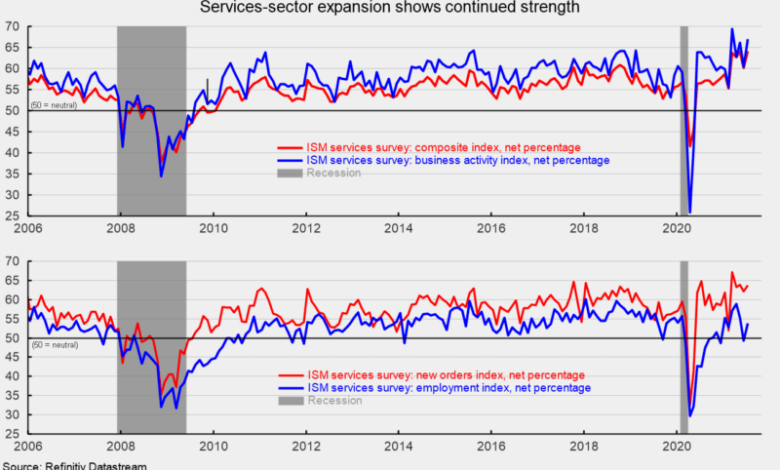 The Institute for Supply Management's composite services index rose an all-time high of 64.1 percent in July, gaining 4.0 points from 60.1 percent in the prior month. The index remains well above neutral and suggests the 14th consecutive month of expansion for the services sector and the broader economy (see top of first chart).
Among the key components of the services index, the business-activity index (comparable to the production index in the ISM manufacturing report) increased to 67.0 percent in July, up from 60.4 percent in June, and the third highest on record (see top of first chart). This measure has been above 50 percent for 14 consecutive months and above 60 percent for the last five months. For July, 17 industries in the services survey reported expansion versus none reporting contraction.
The services new-orders index rose to 63.7 percent from 62.1 percent in June, a gain of 1.6 percentage points from June (see bottom of first chart). Similar to the activity index, new orders have been above 50 percent for 14 months and above 60 for the past five months – a strong performance overall. For July, 16 industries reported expansion in new orders in July while one reported a drop.
The new-export-orders index, a separate index that measures only orders for export, surged to 65.8 percent in July versus 50.7 percent in June. Ten industries reported growth in export orders against seven reporting no change and one reporting declines.
Backlogs of orders in the services sector likely grew but at a somewhat slower pace compared to June as the index decreased to 63.5 percent from 65.8 percent. Backlogs of orders have grown for 13 of the past 14 months. Thirteen industries reported higher backlogs in July while three reported a decrease. The services employment index moved back above the neutral 50 percent level, coming in at 53.8 percent in July, up from 49.3 percent in June (see bottom of first chart). Thirteen industries reported growth in employment while three reported a reduction.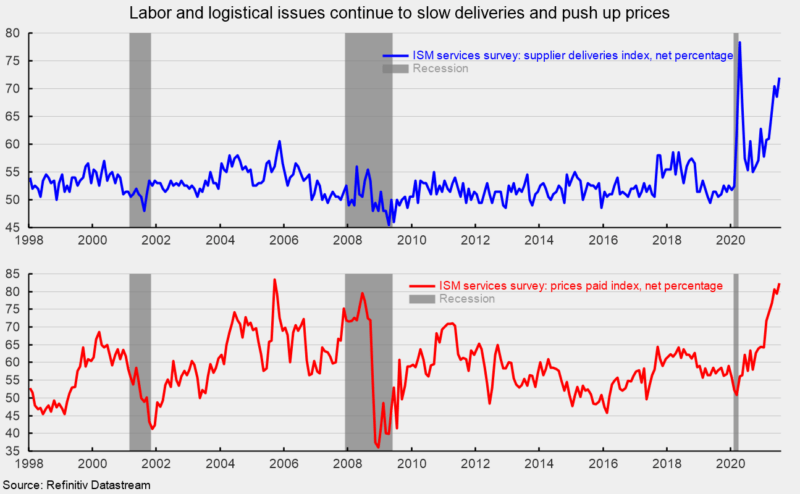 Supplier deliveries, a measure of delivery times for suppliers to nonmanufacturers, came in at 72.0 percent, up from 68.5 percent in the prior month (see top of second chart). It suggests suppliers are falling further behind in delivering supplies to services businesses, and the slippage has accelerated from the prior month. The slower deliveries are a result of labor constraints, production difficulties including materials shortages, and transportation problems. Seventeen industries reported slower deliveries in July while none reported faster deliveries.
The prices index continues to reflect labor and logistical issues that are restraining supply as demand surges following the easing of government lockdown restrictions. The prices paid index jumped to a very-high 82.3 percent, up from 79.5 percent in June (see bottom of second chart). Seventeen industries reported paying higher prices for inputs in July while none reported lower prices.
The July report from the Institute of Supply Management suggests that the services sector and the broader economy expanded again in July. Several respondents to the survey mentioned robust levels of activity but also increased price pressures and materials shortages, particularly related to supply chain, logistics, and transportation issues as well as labor difficulties. Overall, the outlook remains tilted to the upside.
The post Services-Sector Survey Suggests Strong Growth in July was first published by the American Institute for Economic Research (AIER), and is republished here with permission. Please support their efforts.